Red Canyon Physical Therapy – Towson Location
Welcome to Red Canyon Physical Therapy on York Road in Towson! Use this page to learn more about the services that we offer and the staff that provide them.
Red Canyon Physical Therapy is an independently owned practice that offers dedicated personal service and orthopedic care for patients in Frederick, Hagerstown, Columbia, Towson, and Owings Mills. Red Canyon has over 20 years of experience in orthopedic and post-surgical care, sports medicine, work readiness, and chronic pain management.
Focusing on patient-driven results, Red Canyon stays critically relevant by offering the most advanced manual therapy techniques, including Active Release Technique (ART) for Spring, the McKenzie Method of Mechanical Diagnosis and Therapy (MDT), Mulligan Concept (CMP), Dry Needling (TDN), and Augmented Soft Tissue Mobilization (ASTYM).
Services
York Lane Building
7402 York Road, Suite 104
Towson, MD 21204
Phone: (410) 716-0222
Fax: (410) 716-0226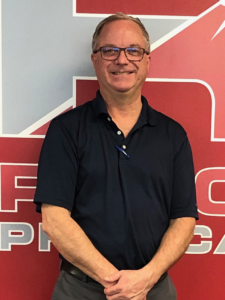 Scott Tennis, MSPT
Clinic Director
Scott earned his Physical Therapy degree from the University of North Georgia in 1997. Prior to that, Scott earned a degree in Social Work from Georgia State University and worked as a Social Worker for many years in Atlanta Georgia.
Scott started his PT career in MD and has over 20 years of Outpatient Physical Therapy experience. Scott has specialized in manual therapy, contracture management, gait analysis and treating the adult and pediatric patient with orthopedic conditions. His overall goal is to help patients feel better and get back to what they enjoy.
Scott is passionate about teaching and learning. He has assisted in the clinical education of dozens of PT students sharing his expertise. He also helped to develop and present a continuing education course on contracture management and was a co-author on treatment solutions for patients undergoing total hip and knee surgery as well as an article on custom bracing for contracture management.
When not at work Scott enjoys cycling, golfing and is an enthusiastic sports fan.