Post-Surgical Care
Any type of surgery can be traumatic for both the body and the mind, and usually requires much time and energy in the weeks and months to heal. Physical therapy is often the only exercise permitted after your surgery, and regaining your strength is vital since weakness in any area may leave you susceptible to re-injury.
Red Canyon Physical Therapy is an independently-owned practice that offers dedicated personal service and post-surgical care for patients in Frederick, Hagerstown, Columbia, and Owings Mills. We understand that following a post-surgery rehabilitation protocol is essential for complete healing. Our unique approach combines comprehensive and advanced techniques with compassionate, customized care to help decrease stiffness and pain so your body can return to full function in your normal daily routine.
Why Is Physical Therapy Important After Surgery?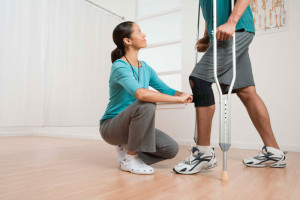 Doctors commonly prescribe physical therapy after surgery to ensure that your body heals properly from your operation. Physical therapy can help to retrain your muscles, regain mobility, and even minimize scar tissue. Doing the necessary rehabilitation can also help your body recover much more quickly than if left in bed. Additionally, working with a physical therapist allows you to be actively engaged in your recovery, and helps reduce the risk of re-injury.
Your post-surgical physical therapy at Red Canyon Physical Therapy will begin by increasing the circulation in your muscles through the use of several manual therapy techniques that promote your body to pump more oxygen and nutrients into tissues and vital organs. In addition to these integrative techniques, we utilize state-of-the-art rehabilitation equipment to amplify your progress and regain your strength. Our approach to therapy is extremely hands on in order to help you to release all of the tension that is preventing you from functioning normally. Even after you have ceased physical therapy with us, we provide you with a home exercise program so you can continue to heal.
Surgeries That Commonly Require Therapy
Whether resulting from motor vehicle accidents, extreme physical activity, or chronic pain, Red Canyon Physical Therapy offers therapy for a wide range of surgeries including:
Knee Surgery
Elbow Surgery
Foot and Ankle Surgery
Hip Surgery
Shoulder Surgery
Cervical and Lumbar Spine Surgery
Joint Replacements
Ligament or tendon reconstructions or repair
Internal fixation of fractures
Red Canyon Physical Therapy works with insurance companies to determine copays, deductible amounts and keep patients informed of their status. We are happy to files claims on patients' behalf, and also offer sliding payment scales and payment plans. Contact us today for more information.