How to Properly Wear a Backpack
It's that time of year again – summer is now over and children all across the area will be returning to school. As students prepare for another year of learning, backpacks will be filled with school supplies, computers, and books. Most individuals simply think about the convenience-purpose of wearing a backpack and do not realize the significance of proper backpack use. What is the proper way to wear a backpack and does a certain wearing technique correlate to back pain in the future?
When considering what backpack to purchase, look for backpacks with broad shoulder straps (and one that also has chest and waist straps).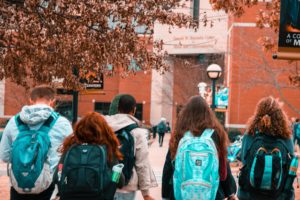 Look for straps that are adjustable. Broader straps secured around the waist and chest help to distribute weight evenly when wearing. Although the popularity of the technique is up for debate, aiming to wear both shoulder straps is also key for optimizing equal weight distribution. Straps should be tightly secured with the backpack centered high on the back between the shoulders – avoid hanging below the waist. Uneven weight distribution in the backpack makes the shoulders, neck, and back more susceptible to future injury.
According to American Academy of Pediatrics, it is recommended that one should not carry more than 10% of their body weight. Increasing weight any more than 10% of one's body weight puts the back at risk for potential injuries such as lower back strains and herniated discs. In order to lighten the load, it is important to encourage students to leave non-essential items for the day in school or at home. When adding weight to the backpack, heavier objects should be added first and closest to the back itself. Keeping the majority of the weight closest to the center of the body is optimal position for less strain on the lumbar and thoracic spine.
Lifting mechanics are also important to consider in order to prevent further back injury. Educate children on lifting and bending from the knees and not the waist. It is important to use the legs when lifting – this method also decreases global pressure on the spine. Overall, learning these techniques on how to lift and carry a backpack is crucial to spine health for all students in order to prevent current and future back injury.
https://redcanyonpt.com/wp-content/uploads/2016/02/RED-CANYON-header-logo.png
0
0
Brian Weisman
https://redcanyonpt.com/wp-content/uploads/2016/02/RED-CANYON-header-logo.png
Brian Weisman
2019-09-12 19:58:44
2019-11-22 15:37:42
How to Properly Wear a Backpack